1. YOU
You are the first important stakeholder in this partnership. You need to plan before you embark on any journey. When people come to me saying they want to buy this or that, I usually ask them questions.
"What are you trying to achieve?", "What is your goal?", "What do you have in mind for short and long term". You need to know what exactly you want to achieve. Are you trying to make money? or do you just want to have a place to live in the future on retirment, for your children, or for business, commercial purposes?
It is also important you know your budget. What would be the impact of these investments on your job, on your family, on everything around you.
Would you have time to follow up on issues back to back? Do you have negotiation skills?
Knowing the answer to these questions would help you plan further, and to get the right people on the journey with you.
2. REAL ESTATE AGENT
After you have settled all the above questions, look out for a reliable real estate agency or agent.
Real estate agents that know what they are doing usually don't work alone, they have networks, so it is good you invest in a reliable real estate agent.
The real estate agent would likely know promos around, reliable developers, the topography of areas of locations you are interested in. If they don't, they know how to get that information.
They would also be able to negotiate on your behalf. A reliable real estate agent would advice on areas you should be looking at. They would also help you run background checks on the documents for the land, if there is any issue with ownership.
Most people want to buy directly from developers thinking the price would be reduced, which is not true. The same price you buy from developers, is the same price you would buy from the real estate agents. The difference is the real estate agent would help you with follow up of your receipt, land documents an would make sure everything is set.
You cant play down the role of a Real Estate agent. Get a good and reliable Real Estate agent, it would save you a lot.
3. REGISTERED SURVEYOR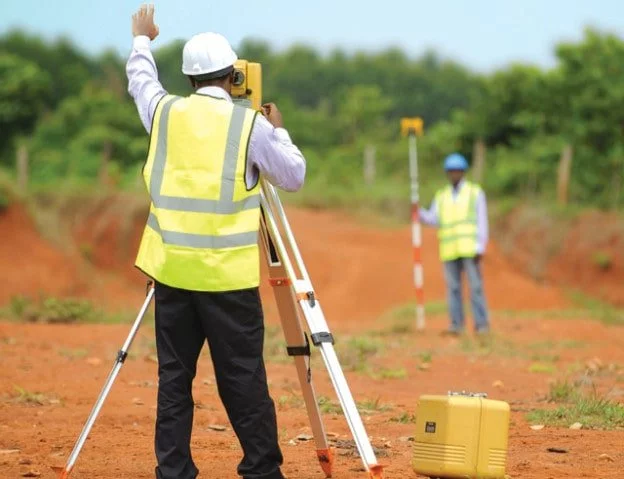 When you talk about real estate, it is not the physical structures (i.e the land or buildings) that we see, it's the documents that back them up.
If you are buying a built structure, you need to look at the survey plan of the land in which the building has been erected.
A survey plan is a document that shows the measurement of boundaries of a parcel of land. It also shows name of the owner of the land, the location of the land, date, surveyor, whether it is free from acquisition. You need the services of a surveyor to find out if the land is actually genuine, irrespective of if its bare land or a structure has been built on it.
I have seen survey plans that the coordinates were not true. So someone who cannont read or plot coordinates will not know this.
As you plan for your real estate investment make sure you have it in mins that you will need the services of a registered surveyor. Its just basic. Don't assume the documents are correct.
4. REAL ESTATE LAWYER
From my experience not all lawyers know about real estate. Whatever investment or whatever you want to buy, you need someone that has an eye to look into the documents of the land.
A reliable real estate agent works with a real estate lawyer.
So for your real estate journey, when you plan, have these in mind, it helps you to budget.
5. MORTGAGE INSTITUTION
Incase you are thinking of getting a loan to facilitate your investment, you have to search for approved mortgage institutions to work with. They would be able to advice you on what your flow of income should look like, how long it would take to process and have access to the loan. You need all these information at the planning stage, not when you have bought a land or property or when you have subscribed to a payment plan.
All these would help you towards setting out on your real estate journey.
Writer: Bunmi Obidare, Lead Real Estate consultant of TB & T Real Estate under TB & T Investments Company Ltd